INSUBALANCE is a series of patented dietary supplement based on a proprietary bioactive short chained fish peptides mix and other carefully selected nutrients that boost your metabolism.
Insubalance products are developed by medical doctors with many years clinical experiences and are produced by Scandinavia´s largest biotech factory with high quality standards. Now available for purchase at at our webshop.  Read more..
All products are composed with the bioactive short chain fish peptides from fish harvested along the Norwegian coast. Fish peptides have in several clinical studies shown to reduce blood glucose level after a meal, reduce fasting blood sugar, improve insulin sensitivity and insulin functions.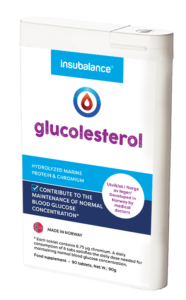 INSUBALANCE Glucolesterol  Make blood sugar and cholesterol control more comfortable, also when you are on the go. Insubalance Glucolesterol contains the same bioactive fish peptides pluss Chromium and caviar extract to boost your immune and energy. Now made in tablets. Read more here.