March 6-8, 2018, Buenos Aires, Argentina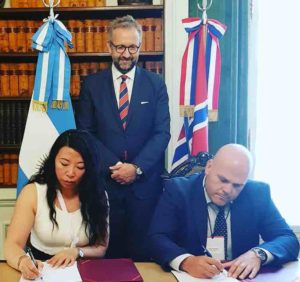 Lion Healthcare Europe AS, the provider of next generation´s solution for prevention of type 2 diabetes and diabetes complications was invited to join the business delegation to the Norwegian King and Queen on their state visit to Argentina March 6-8, 2018.
An sales & distribution agreement was signed between Lion Healthcare Europe AS and our partner in Argentina during the state visit.
"Argentina is the entrance door to the whole South America market, including Brazil and Mexico which have huge diabetic population, and represents a great market potential for our sustainable and economical solution Insubalance", says CEO of Lion Healthcare Europe, Zhongying Kristoffersen.