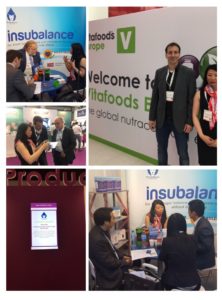 Lion Healthcare was one of the exhibitors at the Finished Product zone at Vitafoods Europe in May in Geneva.
This time we have highlightened our innovative patented diabetic nutrition products Insubalance Shake and Insubalance soups for a large audience of over 20 000 visitors from all over the world.
Insubalance products contains fish protein that in several published clinical studies has show blood sugar reducing properties both in overweight persons and in type 2 diabetes patients.
In addition, we have shown our medical food/Food For Special Medical Purposes Recover Nutrition which is both approved and reimbursed in Norway and EU.
Recover Nutrition is in Norway approved for cancer patients, surgery patients, especially bariatric surgery patients, IBS patients and malnutritionalised elderly. It contains high dossage amino acides, naturly occurring glutamine and marine fatty acids in phospholipid form that are highly bioavailable. In addition, it is high protein and high energy.
Both Insubalance products and Recover Nutrition are featured in the New Product Zone at Vitafoods Europe this year.