Patented and clinically documented dietary supplement for blood sugar wellness and diabetes 2 prevention and treatment support.
PRODUCT FEATHERS:

Contribute to lower blood sugar rise after a meal
Contribute to the reduction of fasting blood sugar
Contribute to the improvement of insulin function and thus improved metabolism
Contribute to a healthier weight
Produced in Norway at Scandinavia´s largest biotech factory with high quality standards
INSUBALANCE shake is based on a patented Norwegian innovation. It contains fish protein peptides which in several clinical studies have shown to reduce blood glucose level after a meal, reduce fasting blood sugar level and improve insulin functions.
A doble blind placebo controlled study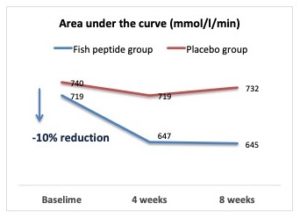 conducted by researchers at University of Bergen at Haukeland Hospital in Norway, com
paring with the placebo group, the participants who has used fish peptides for 8 weeks showed significant reduction in blood sugar after the meal, fasting blood sugar level and cholesterol.
Peptides are protein broken down by enzymes to smaller chains and are derived from fish muscles. These small chains are called peptides. It is like the proteins have gone through a digestion process outside the body. Therefore, the peptides are very easily absorbed by the intestines and do not stress your digestion system.
In addition, Insubalance contains oat beta-glucans which bear EFSA approved health claim for reduction of blood sugar rise after a meal and for the reduction of blood cholesterol when consumed as a part of the meal. High cholesterol is a risk factor in the development of coronary heart disease.
Oat betaglucan might have a prebiotic effect in promoting healthy bacteria flora in the gut, stimulating the production of short chain fatty acids (SCFA) and minimizing harmful fermentation products in the large intestine (Mäiki et al., 2001). All these properties contribute to a normal glucose metabolism and energy production in the body.
The protein in INSUBALANCE is highly bio-available and is high in essential amino acids content. Both are important for muscle synthesis and for promoting health muscle and fat proportion in the body
The product contains only food grade ingredients and is easily dissolved/suspended in cold or warm water or milk.
TARGET GROUPS:
Pre-diabetics
Type II diabetes patients over 18 years old who needs extra supplement to keep blood sugar under control and who wish to reduce medication dose
Overweight adult
People who wish to avoid blood sugar shock after a starchy rich meal
DAILY DOSAGE: 1 sachet per meal, 3 times daily for 2 months as a treatment cycle for those who have abnormal blood sugar level. For those who only wish to enjoy a starchy meal from time to time, use 1 sachet before such as meal.
USAGE INSTRUCTIONS: Take 1 sachet blended with cold or warm water (no more than 38 °C), or skimmed milk or drinking yogurt, stir well until getting a smoothy like drink. Take the drink before or together with the meal.
ALLERGENICITY: The product contains fish protein, milk protein, gluten and emulsifier from soy, and should be used with caution by people suffering from allergies to these substances.
STORAGE: Stored at room temperature below 25°C in dry place away from sunlights. Keep away from children.
WARNINGS: Nutritional supplement should not be used as a substitute for a varied diet. It is important to maintain a varied and balanced diet and a health life style. There are many risk factors for heart diseases. Improvement in one of the factors can, but may not, have a positive effect on the conditions. The product is not intended for diagnosis, treatment, cure or prevent any disease. Pregnant women should consult physicians or dieticians before use.
FLAVOUR: orange.
PACK SIZE: 11,6g/sachet x 15