Insubalance Glucolesterol is composed of a proprietary bioactive short chain fish peptides, caviar extract and chromium.
Peptides are proteins broken down by enzymes through a bio-process where the long chains of proteins are broken down into smaller chains. These small chains are called peptides. It is like that the proteins have gone through a digestive process outside the body. Thus, this type of protein can be easily absorbed in the intestines and that do not stress your digestion system.  Short-chain fish peptides have been shown in several studies to reduce blood glucose levels after meals, reduce fasting blood sugar, lower cholesterol and improve insulin functions.
In a doble blind placebo controlled study (4) conducted by researchers at University of Bergen at Norway´s Haukeland Hospital, participants who ate fish peptides showed a 10% reduction in blood sugar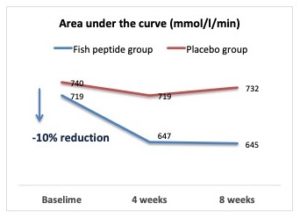 after 2 months of trial period. There was a significant reduction. In addition, these participants også showed a significant reduction in blood cholesterol and fasting blood sugar level.
The bioactive fish peptides in Glucolesterol contain naturally occurring minerals and trace minerals such as iodine, selenium, zinc and magnesium. These are important in maintaining normal blood sugar levels and many of the body's normal metabolic functions.
Chromium helps maintain normal blood sugar levels according to EFSA (European Food Safety Authority). Glucolesterol contains sufficient chromium in order to bear such a health claim. By taking 2 tablets 3 times a day, you get enough chromium from Glucolesterol so that it works positively on your blood sugar.
Literatures:
Genevie`ve C. et.al. "Low-Molecular-Weight Peptides from Salmon Protein Prevent Obesity-Linked Glucose Intolerance, Inflammation, and Dyslipidemia in LDLR2 / 2 / ApoB100 / 100 Mice1-3". Journal of Nutrition 2015.
Ve´ronique O. et.al. "Dietary Cod Protein Reduces Plasma C-Reactive Protein in Insulin-Resistant Men and Women1-3". Journal of Nutrition 2008. doi: 10.3945 / jn.108.092346
Aslaug, D. et al. "Low dietary intake or cod protein is sufficient to increase growth, improve serum and tissue fatty acid compositions, and lower serum postprandial glucose and non-esterified fatty acid concentrations in obese Zucker fa / rats. European Journal of Nutrition 2014, Volume 54 (7) pp. 1151-1160.
Vikøren L. et.al. "A randomized study on the effects of fish protein supplement on glucose tolerance, lipids and body composition in overweight adults. British Journal of Nutrition 2013: Volume 109 (4) pp. 648-657
TARGET GROUPS: pre-diabetics and type II diabetes patients over 18 years old.
DAILY DOSAGE:2 tablets before breakfast, lunch and dinner.
ALLERGENICITY: The product contains fish protein and should be used with caution by people suffering from allergies to these substances.
STORAGE: Unopened box store at room temperature below 25°C in dry place away from sunlights. Keep away from children. Opened box store in refrigerator. 
WARNINGS: Nutritional supplement should not be used as a substitute for a varied diet. It is important to maintain a varied and balanced diet and a health life style. There are many risk factors for heart diseases. Improvement in one of the factors can, but may not, have a positive effect on the conditions. The product is not intended for diagnosis, treatment, cure or prevent any disease. Pregnant women should consult physicians or dieticians before use.
PACK SIZE: 90 tabs.